One57

Type

Residential

Location

157 West 57th Street

Construction started

2009

Construction ended

2014

Height

1,004 ft (306 m)

Floor count

75

Architect

Christian de Portzamparc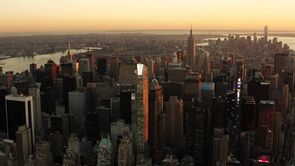 One57 (orignally known as Carnegie 57) is a skysrcaper in Midtown Manhattan. Composed of residential condominiums and a Park Hyatt Hotel, it was completed and opened in 2014. Its planned height of 1,006 feet will make it one of the tallest buildings in the city, and was topped out on June 20th, 2012.
During Hurricane Sandy, a construction crane being used on One57 partially collapsed, causing nearby residential buildings to be evacuated and construction work to be halted.