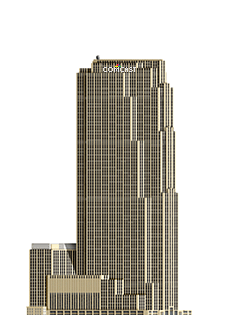 The Comcast Building (formerly known as the GE Building)is the tallest building in Rockefeller Center it is home to the Famous Top of the Rock where you can stand on an observatory and look over Midtown Manhattan it is estimated that over 50,000 people visit the attraction every week
The Comcast Building is well known for housing the headquarters of NBC, the New York facilities of NBC Studios, and NBCUniversal Cable. In 1996, NBC bought the 1,600,000 square feet (150,000 m2) of space it had leased since 1933. The purchase allowed the company to introduce new technologies and renovate the space; it also gave them options to renew the lease on the Today Show studios, broadcast from a nearby building, 10 Rockefeller Plaza.[125] NBC occupies floors 2–19, 21, 27, 46–47, and 51 (leasing the floors it occupies above the 16th).
The building's studios include Studio 8H, the home of Saturday Night Live. Studio 8H was once the largest radio studio in the world, originally home to the NBC Symphony Orchestra, conducted by Arturo Toscanini.[126] It was converted into a television studio in 1950. The Tonight Show was also taped at the building in Studio 6B from the early Jack Paar years until 1972, when the show moved to Burbank, California. In 2014, The Tonight Show returned to Studio 6B with its latest incarnation, The Tonight Show Starring Jimmy Fallon.[127] Tonight's companion program, Late Night, now branded Late Night with Seth Meyers, has been produced from the building since it started in 1982; the relocation of Tonight back to New York in 2014 brought the two shows under one roof for the first time. During its run, Rosie O'Donnell broadcast her syndicated talk show from the building.
The building is best known for housing the headquarters and New York studios of television network NBC, as well as the Rainbow Room restaurant. At 850 feet (260 m) high, the 66-story building is the 22nd tallest in New York City and the 47th tallest in the United States. It stands 400 feet (122 m) shorter than the Empire State Building. 30 Rockefeller Center underwent a $170 million floor-by-floor interior renovation in 2014