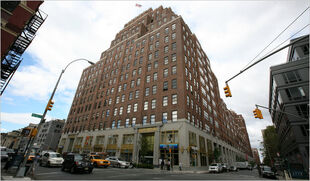 111 Eighth Avenue is a full-block Art Deco multi-use building located between Eighth and Ninth Avenues and 15th and 16th Streets in the Chelsea neighborhood of Manhattan
The building was designed by Lusby Simpson of Abbott, Merkt & Co. and completed in 1932.[1]
It was formerly known as the Commerce Building of the Port Authority of New York and New Jersey, and its headquarters before the World Trade Center was constructed in the 1970s, and before that it was known as the Union Inland Terminal #1, a freight terminal and warehouse.[2]
The building most recently has been used as a carrier hotel, where multiple customers locate network, server and storage gear and interconnect to a variety of telecommunications and other network service providers. The building was the eighth-largest commercial structure in Manhattan as of 1997.[3]
In 2010, Google, which had previously leased space in the building,[4] contracted to purchase the entire 2,900,000-square-foot (270,000 m2) building, in a deal reported to be worth around $1.9 billion.[5][6]
Armani Exchange
CT Corporation
Deutsch
Google
Lifetime Networks
Nike
WebMD
Livestream
Radio Reddit
Smart Choice Communications
References
Edit
Ad blocker interference detected!
Wikia is a free-to-use site that makes money from advertising. We have a modified experience for viewers using ad blockers

Wikia is not accessible if you've made further modifications. Remove the custom ad blocker rule(s) and the page will load as expected.